There are no other tourist groups going to the places you will visit on this tour. Therefore you will see the real authentic Mexico. Nothing is done or build for tourists, you can observe real Mexican live in the jungle and the same in town. See how people are going about their live, working with wood or selling their self grown vegetable and fruits on the market.
Shore excursion for cruise ships in Cozumel - 6 hours. + 2 hour for roundtrip cruise ship - Playa del Carmen!
What will you see?
CHICLERO CAMP
Visit a jungle camp outside the Riviera Maya and listen to my explanations how the workers are living and working in the jungle. I will also explain a lot about the history of the jungle camps in Mexico, cenotes, animals, plants and the medical use of plants. The camp exists since almost 75 years and at the moment are 10 people living and working there over the week.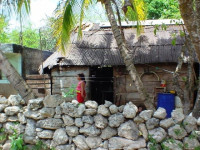 LEONA VICARIO
Next you visit Leona Vicario, a Mexican town in the middle of the jungle, just 25 miles from Cancun and the Riviera Maya. You wouldn't imagine that 12000 people are living in this town, because it's spreading all over the jungle. It is a Mexican town, but 80% of the people living there, are Mayan or Mayan descendents. People are coming out of the jungle so the children can go to school and learn Spanish, because the Mayan language is so different from every other language, they couldn't communicate in their one country if they don't learn Spanish. You will see a real authentic Mexican town, since no other tourist group is going there and nothing is done ore build for tourists. After a small walk over the fruit and vegetable market, you will go on a 1 hour roundtrip in tricitaxis (tricycle taxis), at first you'll have a stop at a property where I will explain how people are building their houses since the don't have the money to build a house from blocks all at once. Your next stop will be at a cemetery, where your guide will explain hoe they deal with death, contrary to us. Then you visit a tornero de Madera (wood craftsman) who built a machine from car spare parts and produces really beautiful mortars, vases, cups and other stuff from wood. If you want, you can buy some of the products for 4,- US – 8,- US instead of 18,- US – 40,- US in the shops in Cancun. Your last stop in Leona Vicario will be at a Tortilleria where I will explain and show you how they make the Tortillas, including a tasting.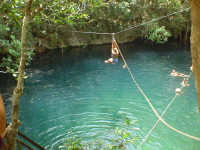 Cenote Verde Lucero
Offf into the jungle again, to the Cenote Verde Lucero, you can have a swim there, you can slide with a zip line into the water, jump from the 25 feet high cliff or just climb in over the stairs.
See more photos in our gallery.
Details
Duration:
6 hours + 1,5 hour roundtrip cruise ship - Playa del Carmen
Transportation:
SUV or VAN with A/C


What is included?
transportation
entrance fees
Tricitaxi ride
guide
What is not included?
What to bring?
bathing suit
towel
sun lotion
bug spray
closed shoes
pocket money
Availability
Please check availabiltiy first before making your reservation.
Pricelist
| # PERSONS | PRICE per Person |
| --- | --- |
| 1 | $ 299.00 |
| 2 | $ 159.00 |
| 3 | $ 149.00 |
| 4 | $ 139.00 |
| 5 | $ 129.00 |
| 6 | $ 119.00 |
| 7 | $ 109.00 |
| 8 | $ 99.00 |
---
Interested?
---