The Riviera Maya developed 40 years ago as a pure holiday region. Until then, there were only a few small fishing villages like Playa del Carmen, which are now full-fledged cities. In order to give tourists an insight into the everyday life of Mexicans, I organized a day trip that leads out of the Riviera Maya and shows both the life of the Maya in the jungle and everyday life in a small Mexican town without tourism. There are no other tourist groups going to the place we visit on this tour. If you want to get to know the country and its people, this is the right excursion for you.
What will you see?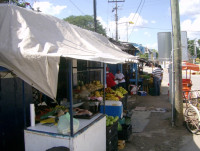 Mexican Town
It is a Mexican town, but 80% of the people living there, are Mayan or Mayan descendants. The Mayan in town left the jungle so the children can go to school and learn Spanish because the Mayan language is so different from every other language, they wouldn't be able to communicate in their one country. You will see a real authentic Mexican town since no other tourist group is going there and nothing is done or built for tourists. On the way to your typical Mexican breakfast, you'll have a small walk over the fruit and vegetable market,
Typical Mexican Breakfast
After your arrival in the Mexican town in the middle of the jungle, just 25 miles from Cancun and the Riviera Maya you'll sit down in a restaurant at the fruit and vegetable market, for a typical Mexican breakfast, while observing everyday life in town. You can choose between Chilaquiles, Nachos, Huevos Rancheros, Huevos Moruleños and lots more!! After breakfast, you'll go to a tortilleria where I'll show you how tortillas are made and you can taste some freshly made tortillas. Afterward, you will go on a 1-hour roundtrip in tricitaxis (tricycle taxis)
Trycicle Taxi Roundtrip
First you'll have a stop at a property where I will explain how people are building their houses since they don't have the money to build a house from blocks all at once. Your next stop will be at a cemetery, where I will explain how they deal with death, contrary to us. Then you'll visit a tornero de madera (wood craftsman) who built a machine from car spare parts and produces really beautiful mortars, vases, cups, and other stuff from wood. If you want, you can buy some of the products for 4,- US – 8,- US instead of 18,- US – 40,- US in the shops in Cancun.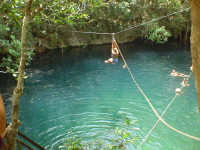 Cenote Verde Lucero
Off into the jungle again, to the Cenote, you can have a swim there, you can slide with a zip line into the water, jump from the 25 feet high cliff or just climb in over the stairs. After swimming in the Cenote you should not take a shower for the rest of the day, with all the minerals in the water you can't do any better for your skin!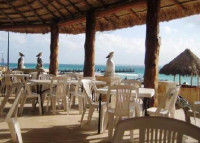 Restaurant
Your next stop is a beautiful restaurant directly at the beach for lunch. Enjoy a typical Mexican lunch, like fish- shrimp-, or steak tacos, or choose something else from the menu, the food, in general, is very good there. Enjoy your lunch with a breathtaking view over the harbor to the turquoise waters of the Caribbean sea.
Maya Handicraft Market
Your last stop will be at a handicraft market in Puerto Morelos, where they are not only selling their merchandise but also making it at the shops, you can have a look at how they make the jewelry or hammocks, in one store they even make all kinds of merchandise from fishbone, like statues, chess boards and lots more.
See more photos in our gallery.
Details
Duration:
07:30 AM - 04:00 PM
Transportation:
VAN with A/C


What is included?
transportation
entrance fees
tricitaxi ride
breakfast
lunch
guide
What is not included?
What to bring?
bathing suit
towel
sun lotion
bug spray
pocket money
Availability
Please check availabiltiy first before making your reservation.
Pricelist
| # PERSONS | PRICE per Person |
| --- | --- |
| 1 | $ 399.00 |
| 2 | $ 209.00 |
| 3 | $ 189.00 |
| 4 | $ 149.00 |
| 5 | $ 139.00 |
| 6 | $ 119.00 |
| 7 | $ 99.00 |
| 8 | $ 89.00 |
All prices are calculated for pick ups in Playa del Carmen. For pick ups from hotels north of Puerto Morelos and south of Playa del Carmen an additional charge of 30,- US, for pick ups from Tulum and Cancun 50.- US, Playa Mujeres 125,- US and Costa Mujeres 175,- US per tour applies, payable at pick up.
---
Interested?
---