Visit Tulum one of the last cities built and inhabited by the Mayans, serving as a major hub for Coba, it was at its height between the 13th and 15th centuries and managed to survive about 70 years after the Spanish began occupying Mexico. Go swimming and / or snorkeling at beautiful Grand Cenote.
Shore excursion for cruise ships in Cozumel - 5 hours. + 2 hour for roundtrip cruise ship - Playa del Carmen!
What will you see?
Tulum (Maya: Too Loom - Walled City)
Tulum was a walled city, protected on one side by steep cliffs facing the sea and on the other by a wall of about 12 feet in height. Tulum served as a trading port. The ancient Maya name was ZAMA=City of Dawn or City of the Morning Star. The buildings that are visible on the site date from the Post-Classic period, around 1200 to 1500 A.D., and the city of Tulum was functioning at the time of the arrival of the Spaniards.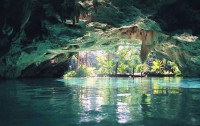 Gran Cenote (Sak Aktun = white cave)
Grand Cenote is part of the Sak Aktun ("white cave" in Mayan) system of underground rivers whose current flows from deep inside the Yucatan peninsula. Grand Cenote is a large beautiful garden cenote with white sand beach type areas along with easily accessible caves for snorkeling and diving. With a circumference area of 202 meters, it is very popular with families and first-time cenote swimmers. Visitors pass through well-kept gardens before descending a natural rock and wooden plank stairway to the wooden platforms and gardens below. At the bottom of the stairs, you can go to the right where you´ll find a shallow snorkeling area with a soft white sandy bottom. With a snorkel mask, you can see large stalactites up close,, non-swimmers can wade to the other side of the cave where they can walk around a natural open hole to the jungle above. Snorkelers can swim around the edges of the cenote, viewing depths up to 10 meters, views include columns of stalactites and stalagmites of all shapes and sizes which resemble cities of skyscrapers. Large balls of roots and vines seem to grow out of the underwater ceiling, connected to the large jungle trees above. Little green turtles paddle around near the garden´s edge.
Details
Duration:
5 hours + 1,5 hour roundtrip cruise ship - Playa del Carmen
Transportation:
SUV or VAN with A/C


What is included?
transportation
entrance fees
guides
What is not included?
snorkeling masks
tips
lunch optional if time allows
What to bring?
shoes or closed sandals (no flip flops)
sun lotion
bug spray
pocket money
Availability
Please check availabiltiy first before making your reservation.
Pricelist
| # PERSONS | PRICE per Person |
| --- | --- |
| 1 | $ 429.00 |
| 2 | $ 229.00 |
| 3 | $ 169.00 |
| 4 | $ 159.00 |
| 5 | $ 129.00 |
| 6 | $ 109.00 |
| 7 | $ 99.00 |
| 8 | $ 89.00 |
---
Interested?
---