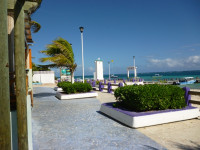 Puerto Morlelos in the Riviera Maya is a quiet little town half way between Cancun and Playa del Carmen. Situated at the Caribbean beach and surrounded by swamp, has not a lot of tourism. The swamp around Puerto Morelos is full of saltwater crocodiles and since these prehistoric animals are a protected species, they are not allowed to dry the swamp out and build hotels, like in Cancun and Playa del Carmen, therefore there are only some hotels on
t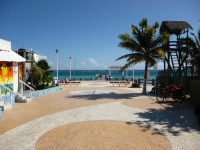 he outskirts of Puerto Morelosand the town only has daytime tourism for sport fishing and snorkeling at the beautiful Maya reef. Puerto Morelos is the most important harbor for Cozumel, because the only car ferry to Cozumel is leaving several times a day from Puerto Morelos and all the food, drinks, gasoline, etc. is transported to Cozumel with this ferry. Even the ancient Mayans used Puerto Morelos as Port on their shea voyages to south America. There are lots of old Mayan temple's found around Puerto Morelos, the Mayans stopped over here to refill their water and food supplies and ask their gods for a safe voyage.
Puerto Morelos is separated in two parts, west of the highway are the Mexican people living, east of the highway, at the beach, are the vacation houses of Americans, Canadians and Europeans as well as beach restaurants and lots of shops that sell silver jewelry, cloth and handicraft. Since there are not a lot of tourists in Puerto Morelos, everything is a lot cheaper than in Cancun or Playa del Carmen or Cancun, therefore the perfect place for shopping.Puerto Morelos has a lot of daytime tourism though. Tourist are coming from all over the Riviera May for snorkeling at the reef. It is only a short boat ride to the reef and snorkeling there is like falling in an aquarium, you can see many beautiful corals, tropical fish and the occasional turtle or rays.
Some years ago, some Mexican and Mayan artist got together and opened a handicraft market, where they have their shops and in the back the workshop. You can see how they are making their handicraft, like hammocks, cloth, pottery, jewelry, etc. and since there is no intermediary you can make a good deal there, buying your souvenirs.