Visit the mystical Mayan Ruin City of Coba, only 40 miles west of the Riviera Maya and approx. 115 miles southwest of Cancun, once the biggest and most important City in Yucatan, climb the Pyramid Nohoch Mul and enjoy the fantastic view over the jungle. Go swimming and /or snorkeling at beautiful Grand Cenote.
What will you see?
Coba (Maya: Cob Ha - muddy water)
The Maya name was Cob Ha and means muddy water, named after the muddy lagoons close to the site. Coba is the largest and oldest Mayan Ruin site in the Yucatan, with an estimated 6,500 structures dating back to 200 B.C. Coba has the highest pyramid in the Mayan world, at nearly 140 feet ( 42 m ) high, with 120 steps to the top, giving you a fantastic view over the jungle. Coba is estimated to have had significantly more than 50,000 inhabitants at its peak of civilization, and the built-up area extends over some 80 km². Your expert tour guide will share the wonders and history of the Mayan civilization with you, as you gaze in awe at how advanced these people were thousands of years ago.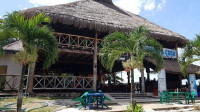 Lunch
Enjoy a delicious lunch Maya style in a beautiful restaurant with an amazing view over the lagoon of Coba. At the buffet, you can choose from the salad bar, fish, and between Maya specialties like Cochinita Pibil or Pollo Pibil, accompanied by rice or tortillas. 1 soda is included.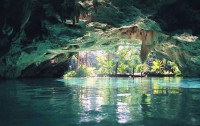 Gran Cenote (Sak Aktun = white cave)
Grand Cenote is part of the Sak Aktun ("white cave" in Mayan) system of underground rivers whose current flows from deep inside the Yucatan peninsula. Grand Cenote is a large beautiful garden cenote with white sand beach-type areas along with easily accessible caves. Visitors pass through well-kept gardens before descending a natural rock and wooden plank stairway to the wooden platforms and gardens below. Little green turtles paddle around near the garden´s edge.
See more photos in our gallery.
Details
Duration:
06:30 am -3:00 pm
Transportation:
SUV or VAN with A/C


What is included?
transportation
entrance fees
guide
lunch with 1 soda
What is not included?
What to bring?
shoes or closed sandals to walk in the jungle
bathing suite
towel
sun lotion
bug spray
pocket money
Availability
Please check availabiltiy first before making your reservation.
Pricelist
| # PERSONS | PRICE per Person |
| --- | --- |
| 1 | $ 349.00 |
| 2 | $ 199.00 |
| 3 | $ 149.00 |
| 4 | $ 139.00 |
| 5 | $ 129.00 |
| 6 | $ 119.00 |
| 7 | $ 109.00 |
| 8 | $ 99.00 |
All prices are calculated for pick ups in Playa del Carmen. For pick ups from hotels north of Playa del Carmen an additional charge of 30,- US, pick ups from Cancun 75.- US, Playa Mujeres 125,- US and Costa Mujeres 175,- US per tour applies, payable at pick up.
---
Interested?
---